We believe that food is the purest expression of love and kinship. It speaks without words when a meal is shared with loved ones or when a generous heart calls a community feast...
Traditionally, the Feast of Merit was the grandest and most lavish feast a Naga can give in his lifetime. On this day, he would invite everyone...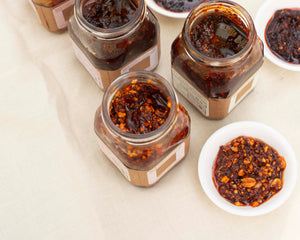 Naga Mircha Hot sauce
Roots Agro
The original and the most undeniable Naga Mircha Hot Sauce. 
Do you know? Naga Mircha popularly known as King Chilli or Raja is protected by the Geographical Indication tag which means that the chilli grown in Nagaland is OG as it gets. 
Heat meter: 4 flames 

How to use: As a sauce on everything and every dish that needs heat, great with dips, marinates, salad dressing and cocktails 
Ingredients: Naga mircha, seasoning, vinegar
Quantity: 60 gms
*vegetarian product
* This product is made in a facility that handles shrimp and nuts 
View the full product →
These pickles are a tribute to the vibrant food culture of India and how our love for food bring us, from different cultures, ethnicity and even religions, together.  
...
We invite you to share with us the tastes of the forests, cultures, stories of the past or just delicious food made with love